ATHLETES
At Baja Jerky, we're all about living life to the fullest. And for us, that means being active and enjoying the great outdoors. That's why we've partnered up with a variety of athletes across the country – to inspire anyone and everyone we can to lead an active and healthy lifestyle.
Beef jerky has traditionally been the go-to snack for hiking and camping, but that's where it historically stopped. Surfing? No way. Off-road racing? Forget about it! But our team at Baja Jerky is full of trail blazers, and we're more than happy to challenge the status quo. With our addition to the industry, beef jerky was no longer limited to strictly mountain-oriented sends. We officially made it cool to eat beef jerky wherever you are – no matter what you're doing.
Hailing from San Diego, our first focus was sports popular in Southern California. We got in touch with our community and found some stars in the surf world. They in turn introduced us to tons of new people and opened our eyes to their surf-studded lifestyle. And that ultimately turned us onto even more activities like mountain biking, dirt biking, off-road racing, and even rodeo.
Our roster, which spans across a variety of sports, shows just how versatile our product is. Athletes from all walks of life who are performing on levels that demand their body to move in all sorts of ways find commonality through our snack. Our beef jerky is reliable, delicious and good for you. With the lowest sodium levels on the market and a hefty load of protein in each serving, it's no wonder Baja Jerky is quickly becoming the favorites of athletes all over the country.
There's no hiding that what you eat directly correlates to how you feel. And if we want to feel good, we need to eat good! That's why we take such precision and care in selecting the ingredients that will ultimately craft our beef jerky. It starts from the bottom up – from what our cows eat to the spices that bring our flavors to life. Every single ingredient matters, and we've got the best of the best to fuel your adventures.
Now, here we are, two years later and we've got an unparalleled roster of athletes and partners. Once again, we strive to live our best lives. We eat good so we can feel so we can perform good – it's that simple. And we hope that our values and our partners help you to do the same.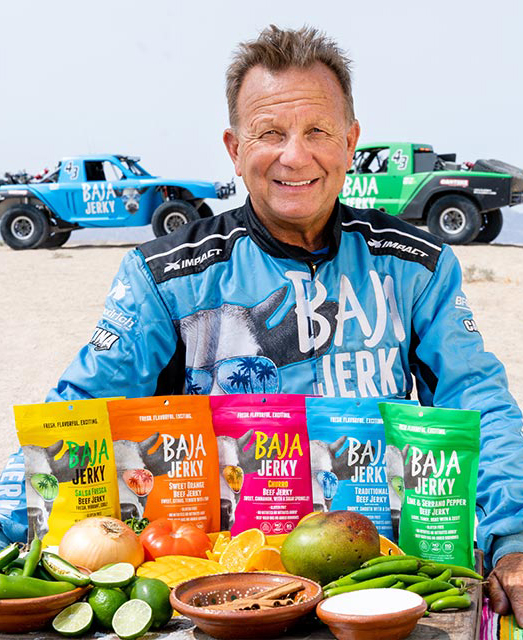 01
Larry Roeseler
Off-road Racing
Dubbed "Mr. Baja" for his record-breaking amount of wins at the BAJA 500 and BAJA 1000, Larry Roeseler is one of the most accomplished multi-discipline desert racers in off-road history. Still adding to his unbelievable racing record, Larry makes sure to honor his family values and spend plenty of time with his kiddos and wife. To read more on Larry's amazing career, click here...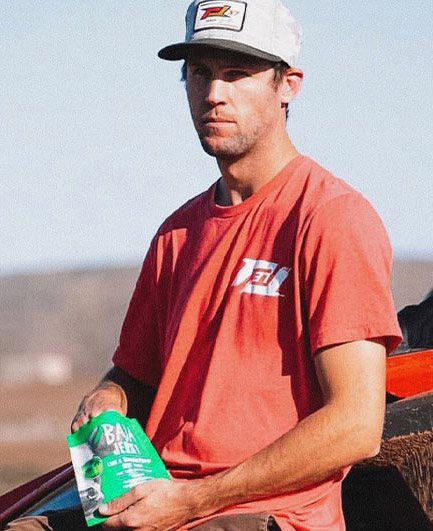 02
RJ ANDERSON
OFF-ROAD RACING
Trailblazing a new breed of off-road racers, RJ Anderson has graced the podium more than 100 times and has amassed over 30 million views on YouTube! He's a genuinely passionate racer and a true legend in the making. For more detail on his impressive racing career, click here...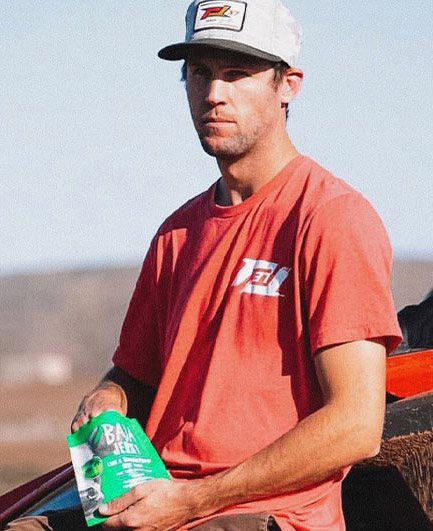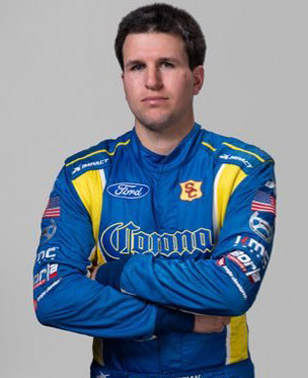 03
CHRISTIAN SOURAPAS
OFF-ROAD RACING
With a nickname like "El Matador", Christian Sourapas is one to look out for. A former sprinter at USC, Christian has taken the off-roading world by storm and is well on his way to winning countless titles.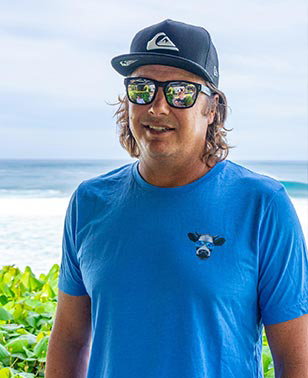 04
REEF MCINTOSH
SURFING
Reef Mcintosh is an absolute legend in the surfing community. He won Wave of the Decade in 2020, but that doesn't even get close to covering the crazy amount of accolades he has collected over the year. Reef currently looks after the Quiksilver house at Pipeline and puts on yearly clinics at Off The Wall.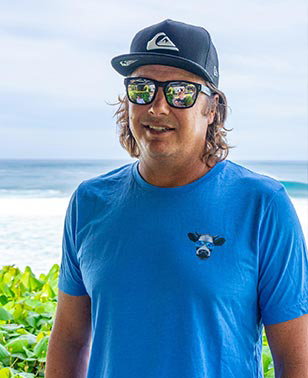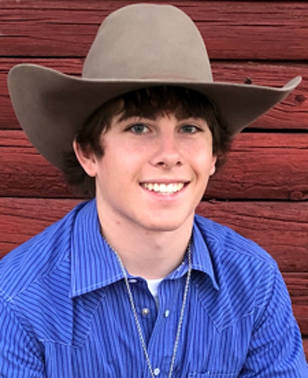 05
RAWLEY JOHNSON
RODEO
Rawley Johnson has been rodeoing since he was six years old and as a result has some of the most impressive experience for someone of his age. In middle school, Rawley qualified for the National Junior High Finals Rodeo all 3 years and placed in the national top 10 twice. Now in the thick of his high school career, Rawley has climbed to No. 1 in the Bull Riding Rookie Average of the Northern Rodeo Association. He is also active in the Idaho High School Rodeo Association where he competes in bareback, saddle bronc and bull riding. In the next couple years, watch for Rawley on the Pro Rodeo circuit!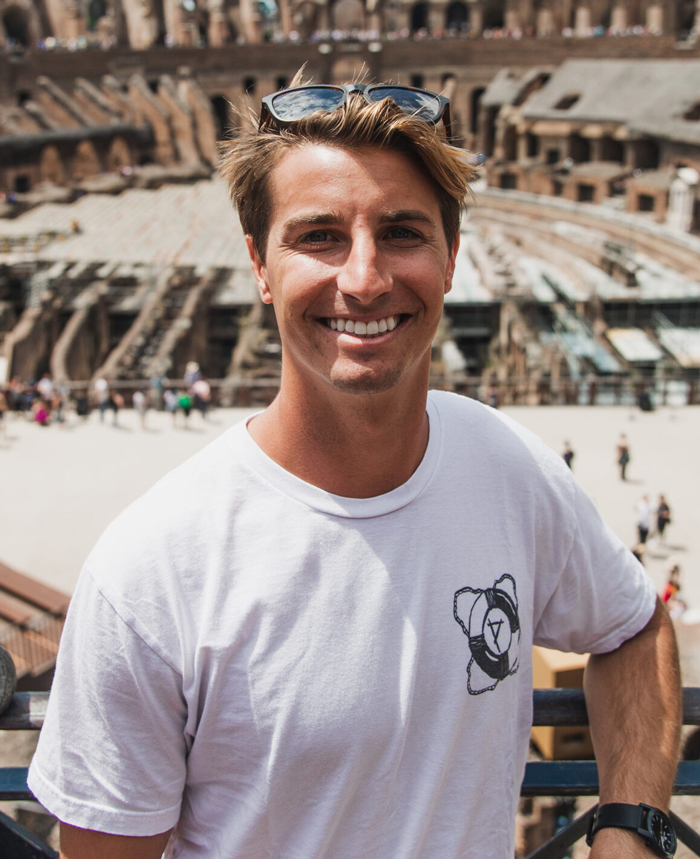 06
JON SIMEK
FREESTYLE MOUNTAIN BIKING
Jon has been ripping up dirt and ramps in Southern California for years. And it's easy to spot him - he's usually upside-down or sideways off a jump you never thought someone would try! Being active is part of his core: Fueling his pump and craziness, that is Baja Jerky's job!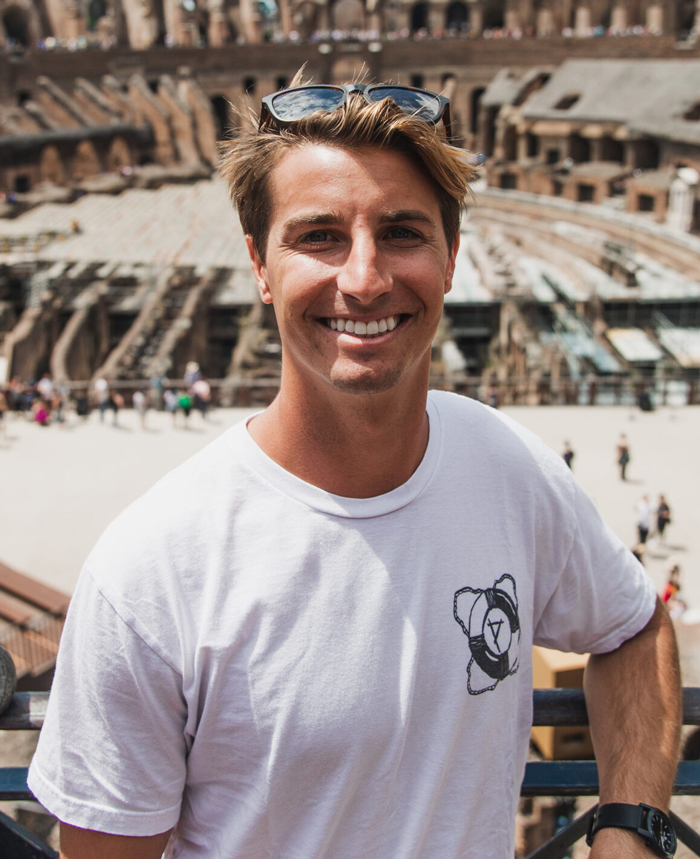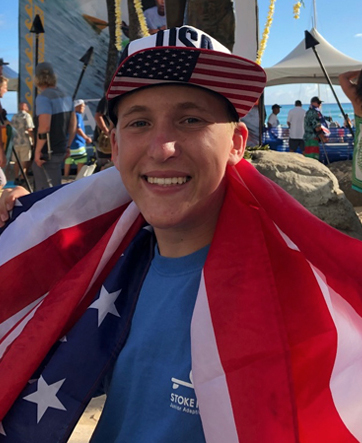 07
PARKER OLENICK
ADAPTIVE SURFING
Parker Olenick is the kind of surfer who boldly charges through life. He won first place in the 2019 Hawaii Adaptive Surfing Championships' Junior Division and is a recipient of the competition's highly coveted perfect 10 score. Founder of the Stoke for Life Junior Adaptive Surf Team, Parker's sights are set high on international competitions across the world in Costa Rica, Japan, Spain and more. But his dreams don't end there... hosting a world adaptive surf tour or representing the US in the Paralympic Games are just a few goals he strives to achieve. You can recognize Parker at the beach a mile away by his bright smile as he heads for the surf.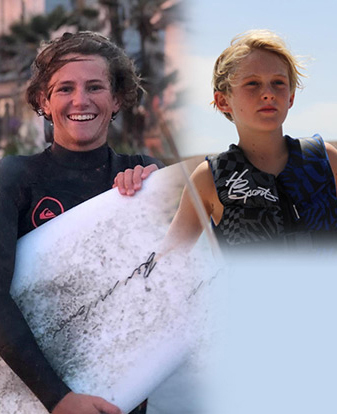 08
MASON & JACOB MORGAN
SKATEBOARDING / SNOWBOARDING / SURFING
Mason and Jacob Morgan are your quintessential Pacific Beach kids. Based in Southern California - a hub for all things extreme sports - the brothers are avid boarders: snowboarding up north, surfing & wakeboarding off the coast, and skateboarding just about anywhere. Not content with just picking one, anything with a board is worth exploring for these two champs-in-the-making. And although trying something new doesn't always go smoothly, Mason and Jacob have the spirit to pick themselves up and keep trying!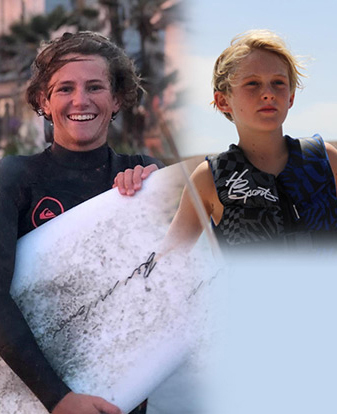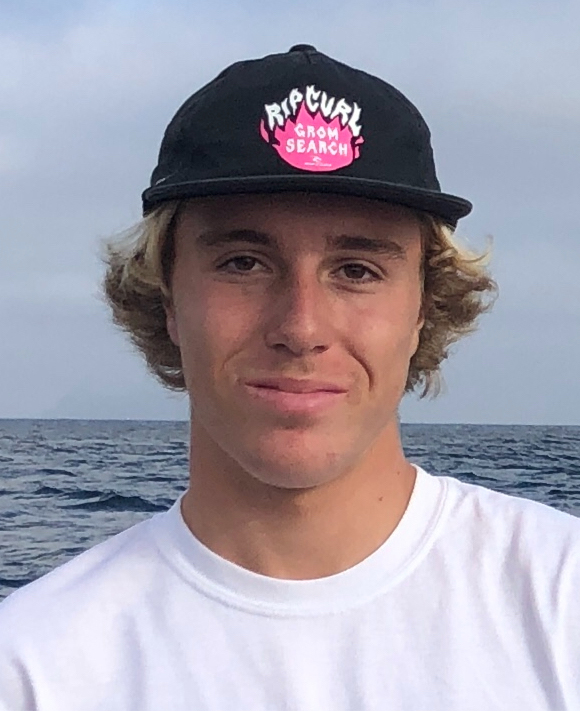 09
HENDRICK OSTERKAMP
SURFING
Hendrick Osterkamp's dedication to surf is what gets him up for practice early in the morning and after school. This rising talent earned his first win at age nine and has been showing off his skills at a competitive level ever since. Now one of the top surfers in the U16 (under 16) division in the Western Surfing Association, Hendrick most recently placed in the finals for two Sun Diego Surf Series events in June and July of 2019. Based in San Clemente, CA, Hendrick loves to travel and is always eager to experience new places and cultures.