We'd like to formally welcome Larry Roeseler – a legend, family man and "Mr. Baja" – to the roster of incredible athletes supporting Baja Jerky!
Larry is from Southern California and has been racing his whole life. His family moved to the San Bernardino region from Minnesota to live out the "California dream", which he sure did! His passion for wheels started with mini bikes when he was just five years old: his attempt to recreate the speedy adventures of his father and grandfather.
His family's passion for racing was a huge catalyst for his own career. Larry fondly remembers going to races with his father and one of his heroes, Malcolm Smith. In a world surrounded by checkered flags, golden trophies and adrenaline kicks, it was only natural that Larry take up racing. So one thing led to another and he began racing competitively.
To say Larry made a splash in the industry would be an understatement! He won his first BAJA 500 when he was just fifteen years old and entered the international racing scene shortly thereafter. After winning all over the world, Larry returned to Southern California to win his first BAJA 1000 at just 19 years old. Little did he know that Baja would later become his namesake…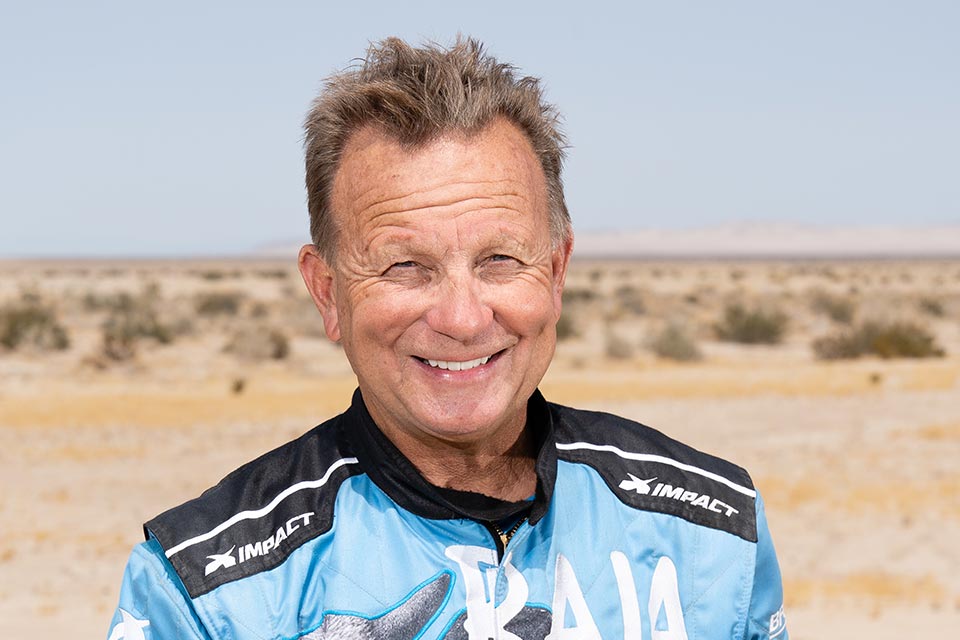 Over his career, Larry has been inducted into multiple halls of fame and has won countless races, including ten gold medals from the ISDE. He also holds the record for the most wins of the BAJA 1000 with an incredible count of 13. His impressive record at the BAJA 1000 as well as his 11 wins from the BAJA 500 has earned him the nickname, "Mr. Baja" (he couldn't fit into our fam any better!).
When addressing his well-suited nickname, Larry noted that his racing in Baja has been "a great way to see the country". It has allowed him to experience the desert in new ways, which has only grown his passion for the sport. It also happens to provide a stunning backdrop for his supporters to witness him making history!
Larry's victories have made him one of the most accomplished multi-discipline desert racers in off-road history, but he remains extremely humble and is dedicated to spending time with his family. He brings his adorable kiddos to every race, and after, they like to visit the beaches and build sand castles together.
We're so excited to have welcomed Larry to the fam during his latest finish at the BAJA 500 where he repped Baja Jerky. He went through crazy challenges to finish for us like having to read the tough terrain and make split-second decisions, which ultimately brought him to the finish line as #1. "Mr. Baja" taking on the Baja Jerky name could be more well-suited, and we're stoked to have a legend like him on our team!