Summer is behind us and that means that we get to settle into the best season of the year—football season! Many folks are foregoing the trek to crowded stadiums this year which means that football watch parties are on the rise! If you're planning on keeping it close to home this year, go ahead and open those front doors and warm up the big screen because we have some of the best football watch party recipes that will make your home a one-stop-shop for all your football loving friends. Baja Jerky and Baja Seasonings were created by a Michelin-star chef who puts a tasty twist on your favorite snacks so that you can have a truly unique spread that will keep you satisfied, even if your team doesn't. Ready to host a game-changing party? Read on to learn about all the best snacks and meals that will make your party a winner every time!
Chips are a staple in any party spread, and your football watch party is no exception! While everyone else is tossing in a bag of plain ol' tortilla chips, we're kicking it up a notch Baja style! Here, we have a recipe that is so simple, so delicious, and so easy to make that it will have you wondering why you haven't been making your own chips all along! Yes, that's right—you are going to be wowing everyone you know with homemade tortilla chips. The best part is that we will be adding a very special ingredient to the fresh tortilla chips that will easily turn them into Best Chips Ever status. Baja Seasonings Chile Limón makes the perfect addition to corn tortilla chips because it adds a zesty heat that accompanies that satisfying crunch! So, bust out the big bowl and fill it up with the chips that have the winning kick!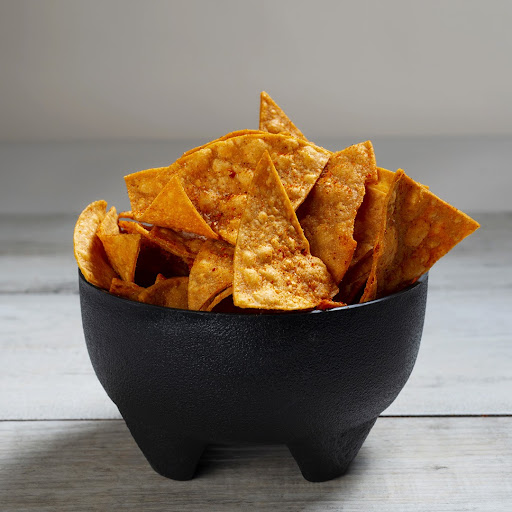 Chile Limón Chips
Ingredients:
Guerrero white corn tortillas (cut into 6 equal pieces)

Vegetable oil (pot with oil, fryer)

Baja Seasonings Chile Limón
 Technique:
Fry a handful of cut tortilla triangles at 375F until golden brown, stirring the chips often during the fry.

Drain chips on a sheet pan with a rack, and allow to come to room temperature.

Toss a couple handfuls in a large bowl while seasoning with desired amount of Baja Seasonings Chile Limón.
Baja Pro Tip: Looking for the best snack hack, but on a time crunch? Add some Baja Seasonings Chile Limón to any bag of chips to kick them up a notch. It may not be as epic as the homemade version, but will still add a zesty punch so you can still serve up the best snacks for your football watch party!
Regardless of how out-of-this-world delicious your chips are, we all know that the right dip makes the perfect teammate for a truly winning combination. Guacamole is easily one of the best dips to add to your football watch party snack table, and the right preparation of this crowd-pleasing favorite is sure to score big. While combining the right ingredients to create a balanced guacamole is half the battle, the other half is figuring out how to make your guacamole stand out from the rest. That's why we incorporated a little something extra that adds a whole lotta flavor to compliment your favorite dip. Baja Jerky Salsa Fresca makes the perfect addition to guacamole because it not only adds the vibrant, fresh flavors of our best-selling beef jerky but also throws in a tender, perfectly chewy texture that will make you question everything you ever thought you knew about guac.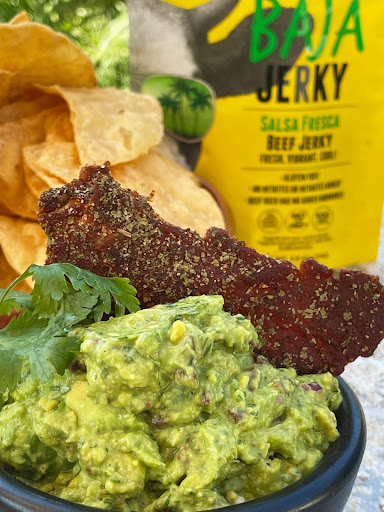 Salsa Fresca Guacamole
Ingredients:
1 bag (2.5 oz) Baja Jerky Salsa Fresca, rough chop

3 ea. Hass avocado

¼ ea. red onion, chopped

1 ½ ea. lime, juiced

1 ½ tsp. kosher salt

¼ bunch cilantro, chopped
Technique:
Cut the avocados in half. Remove the pit, and scoop out the flesh.

Using a fork, roughly mash the avocado.

Add remaining ingredients, and stir to combine.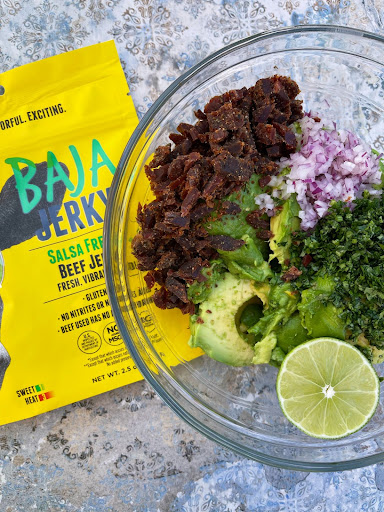 Baja Pro Tip: Need a snack with all the fresh flavors of a delicious salsa that's always ready? Subscribe and Save to make sure you're always prepared with a backup of Baja Jerky Salsa Fresca. Simply share and enjoy!
We all know that sitting on the edge of your seat and arguing with the refs on screen for making bad calls while keeping up with quick, witty banter in your fantasy league can work up a serious appetite that pizza or average wings just won't satisfy. Grab a bottle of Baja Seasonings Street Taco to make the ultimate wings that will have you more excited than a winning field goal. Yep, we're talking about Street Taco wings that are simple to make and are sure to be in the starting lineup every season.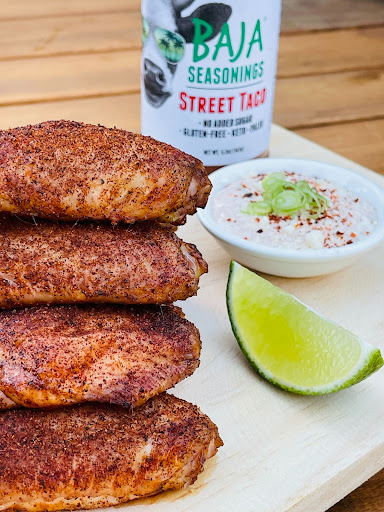 Street Taco Wings
Ingredients:
1 dozen chicken wings or drumettes

Baja Seasonings Street Taco
Lightly coat all sides of each wing or drumette evenly with Baja Seasonings Street Taco

Set smoker, grill, or oven to 275-300F. (Our favorite way is a smoker with wood chips or a charcoal grill)

Cook for 45 min. – 1 hour. 
Wings are another one of those things that get even better when paired up with a dip, and though ranch and blue cheese are the long reigning champions of wing teams – make way for the creamy texture and zingy kick of Baja Seasonings Chile Limon Crema Dip to take the bowl. Yes, it's that super!
Chile Limon Crema Dip
1 cup Mexican Crema 

1 tablespoon Baja Seasngs Chile Limon

1 tablespoon of fresh sliced scallion
– Mix and garnish with a little extra scallion
No matter the crowd, everyone knows that no spread is complete without a little something sweet. Baja Seasonings are so versatile they amp up the flavor of all your favorite foods. To keep it fuss-free, but satisfying we recommend a fresh, irresistible flavor combo of watermelon and Baja Seasonings Chile Limón that is definitely replay worthy.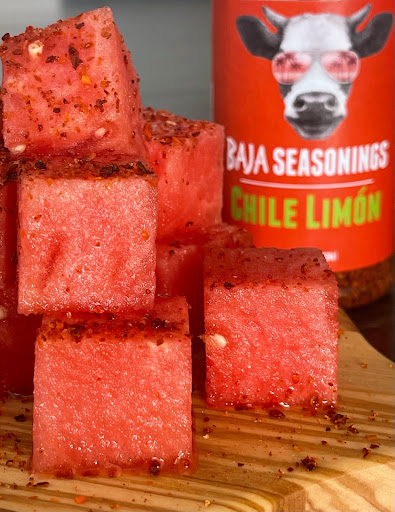 Watermelon with Chile Limón
Ingredients:
1 watermelon, cut into slices

Baja Seasonings Chile Limón
Technique:
Sprinkle watermelon with Baja Seasonings Chile Limón.

Serve and enjoy!
Heading into football season is something many of us wait for all summer. While we can't guarantee a ring for your team, we can help you put together the most flavorful menu of the season with expertly crafted recipes that were created with fresh flavors and simple preparation in mind.