Celebrating the vibrant culture of Baja California is the inspiration behind everything we do here at Baja Jerky. Creating a high protein, low sugar, low sodium meat snack was born from the drive to fuel every adventure awaiting behind every corner of this truly special place. Whether on land or water, extreme sports and unique adventures are a big part of what makes Baja special. As we continue our celebration of Hispanic Heritage Month, we look towards all these one-of-a-kind adventures and take the time to honor some of the truly epic adventures that are a part of the Baja lifestyle. From desert hiking to tropical scuba diving and everything in between, we have compiled a list of some of our favorite ways to take in the culture and celebrate the Baja vida!
Baja by Land
We couldn't start off a list of our favorite Baja adventures any other way than to highlight the motorsport racing community that is ingrained in the adventure lifestyle there. Nowhere else in the world will you find a race that requires as much grit and sheer determination as those held in Baja California, Mexico.  Every year, athletes flock from all over the world to compete in highly coveted races such as the Baja 500 where these dedicated athletes prove they have the skill, resiliency and dedication it takes to make it to the finish line of this grueling 466 mile race. We have a special place here at Baja Jerky for these races as we sponsor Baja trophy truck champion and hall of famer, Larry Roeseler. Every year, Roeseler competes through difficult terrain and challenging obstacles earning him the nickname, Señor Baja.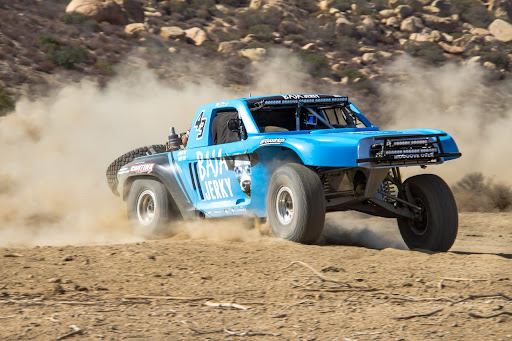 While watching the world-renowned races may be on your Baja bucket list, you don't have to be a gold medalist to hop on some wheels and enjoy a once in a lifetime Baja experience. Motorcycle adventures are a great way to enjoy the diverse playground that's unique to the Baja Peninsula. Whether you prefer the energy of a popular resort or the landscape of a small desert town, Baja has it all making it a top destination for the motorcycle traveller. If you're more the cycling type, Baja offers the unique opportunity to bike the length of the peninsula. Touring by mountain bike has been gaining in popularity over the years, and while this 2-4 week epic adventure is not for the faint of heart, it gives a truly breathtaking perspective of the vast diversity of the landscape. 
If the great outdoors is your thing, but extreme sports aren't, you're in luck! Baja is known as the hiking capital of Mexico with more certified hiking trails than anywhere else in the nation. While developed hiking continues to grow along the peninsula, more and more people are beginning to take this epic destination as a serious hiking destination. While most people live in the northern cities of Tijuana and Ensenada, the rest of the state boasts a diverse and rugged landscape with seven national parks within its borders. No matter what area you choose, you are gifted with epic sights such as once in a lifetime views of the Pacific.
Baja by Water
When many people think about Baja, images of crystal clear beaches come to mind. That's because the peninsula is known for having some of the most epic water adventures in the world. Surrounded by the Pacific Ocean or Sea of Cortez, there is no shortage of rocky alcoves and sandy beaches to explore. This makes Baja an amazing place to take a deep dive. Head to the southernmost tip of Baja for a tropical diving adventure. Depending on the time of year, you will find everything from mobula rays and sea lions to humpback whales and hammerhead sharks. For a more rugged experience, head to Guadalupe for great white shark cage diving. Prefer to keep it mellow? La Paz offers all-ages snorkeling adventures that provide a memorable family-friendly experience.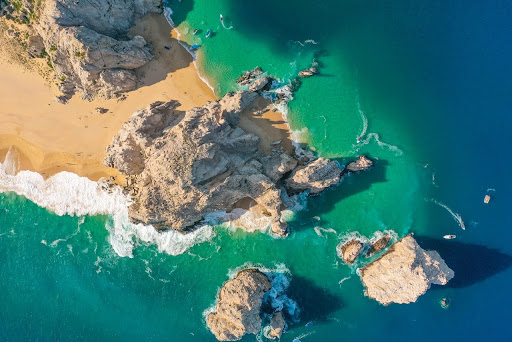 If you're the type that would rather catch fish than simply look at them, Baja is known as a world class sport fishing destination. The sparkling waters off of Cabo San Lucas are home to an abundance of tuna, and after several years of commercial fishing, Cabo decided to launch itself into the world of sport fishing.The unparalleled beauty of the landscape matched with large amounts of fish in the area quickly catapulted this small beach town to the forefront of international fishing fame earning its nickname, the "Marlin Capital of the World". Baja Jerky honors this tradition with our very own fishing boat, The Salsa Fresca, named after our best-selling jerky. 
Honoring Baja
Hispanic Heritage Month means more to us than simply paying our respects to the people and cultures that help shape our communities. Our love for the Baja lifestyle is a part of everything we do. Baja Jerky was born out of an appreciation for a place that provides epic adventures unlike any other. Whether it is gearing up to attend another trophy truck race, taking out the Salsa Fresca fishing boat for an epic catch, or preparing for an adventure yet to be discovered, we are always ready to experience every part of this truly special place. This Hispanic Heritage Month, we hope you will join us in honoring the flavors, traditions, and journeys that continue to inspire us every day.